The funding was used to deliver the Energy in Transition project which aimed to reduce fuel poverty in more than 1,000 remote households across the Western Isles through a roadshow, home visits and a referral programme. The project engaged with 1,464 households, which is equal to 12% of the entire Western Isles population.
Energy in Transition Western Isles employed two additional experienced energy officers to identify energy efficiency improvements, needed in homes. The energy advice sessions they offered included:
Discussing and reviewing energy tariff, usage and costs.

Completing a home energy survey

Identifying ways to conserve energy within the home.

Liaising with the householder to agree to an energy plan that would give a 5% reduction on energy use.

Support and handholding with fuel bills and energy debts.

Referrals for energy efficiency work.

Signposting to relevant support networks such as Home Energy Scotland, Citizen Advice.
Advice and interventions
The project helped identify practical ways to help residents in the islands reduce their energy use as well as assisting households with more sensitive issues, including applying to support schemes and being referred for debt relief and benefit checks.
Events
The project arranged several events as well as attending others that took  place across the islands. The events they delivered varied from specific community events. An electric vehicle with cosmetic 'Energy in Transition' body wrap was used as a marketing tool at public engagement events. This allowed the advisors to talk to people who may otherwise have not engaged with the project about climate issues, promotion of low carbon transport as well as steps to reduce their energy consumption.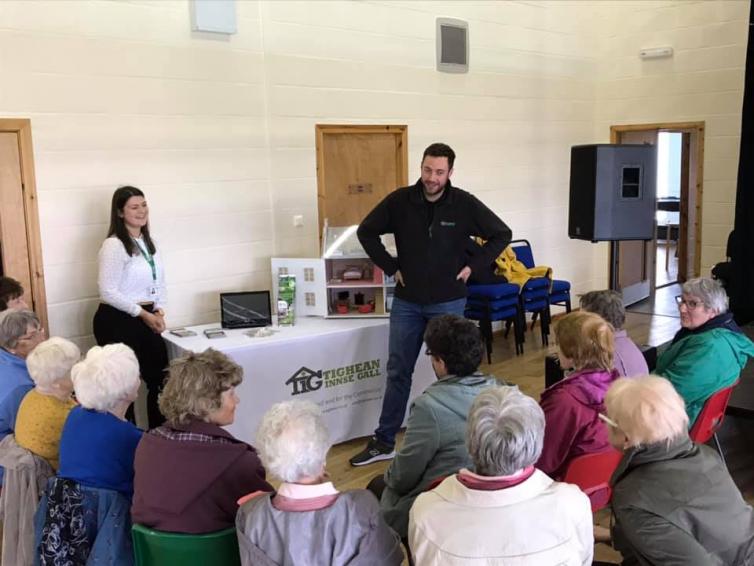 The Energy in Transition project was unique in the Western Isles. We were immediately identifiable because of our liveried Electric vehicle, which was used to actively promote the project at all public events.
While the pandemic made delivering the project more challenging, we adapted and engaged with people virtually, not face-to-face as was initially proposed.
Nonetheless, we helped 1,430, above our initial target by 35%, all the while identifying further need across the Outer Hebrides. Going forward the adoption of energy plans for supported households will provide a great legacy, extending the project success further.

Dan Morrison, Director of Energy Services, The Energy Advisory Service
Outcomes:
The project successfully engaged with 1,464 householders by offering and delivering energy plans to lower their household energy consumption. This saved on average; £71 per household and achieved an energy usage reduction on average of 10.9%.
Further outcomes included:
Attending 77 roadshows and public engagement events.

Recruiting 535 householders through the Energy in Transition roadshow. 37% of these households were recruited to the project at an event.

Visiting 167 clients in their homes, most of which took place prior to COVID-19 restrictions, and others once lockdowns had eased and risk assessments allowed.

Email or video calling to advise 353 individuals during COVID-19 restrictions

Referrals for energy efficiency measures were made, where appropriate, reflecting the criteria of the schemes available. As a result, 137 households received energy efficiency measures installed by Tighean Innse Gall's insulation department as the delivery agent for the HEEPS:ABS programme.

Client financial gains of £101,536 through switching advice, heating support funds and debt alleviation.
You can download their information leaflet here.